Neelun Lew
Chef Sam Sears
South Van Events Catering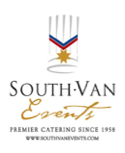 "We want to thank you for the profound positive effect your design work and marketing strategy has had on our business. The superb branding and overall marketing efforts gave the company a strong visual identity and presence. Your efforts at communicating a message of excellence in product, service, and trust in each medium paid off with a higher profile in our target markets."
"Most significant was your help in developing our customer base in profitable markets like Weddings and Corporate Events.
After seeing a great year of results with a 28.6% increase, we realize that your thinking was right on target. We look forward to even greater success in the coming years"
__________________
South Van Catering was the winner of the
AAF Lexington 2004 Documented Sales Success Award
for Excellence in Advertising Results.